Validate your marketplace as you go
Stasher co-founder and CCO Anthony Collias reveals how Stasher validated their business idea, built their tech, found partners and funders, and expanded the marketplace to three continents.
Published on
Last updated on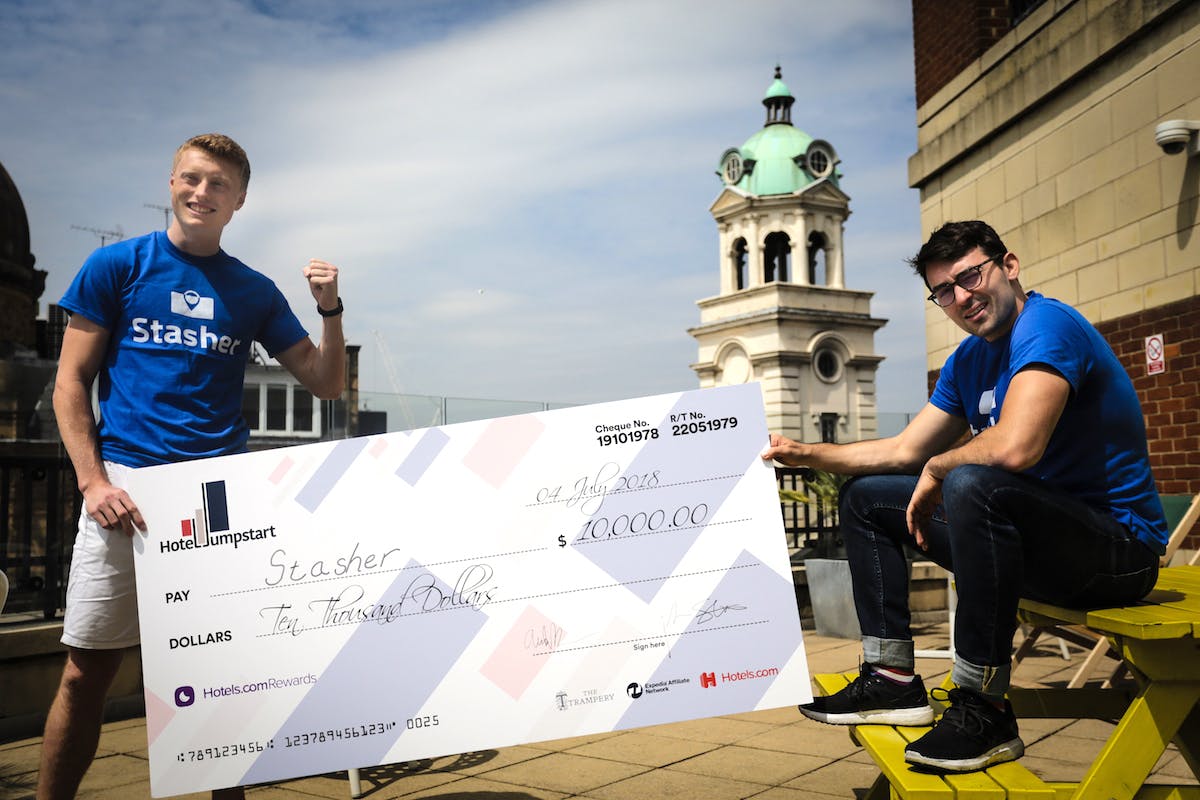 Inspiration and insights from global marketplace experts and thought leaders. Interview with Stasher co-founder Anthony Collias.
---
Building new partnerships is what most inspires Anthony Collias, co-founder and CCO of Stasher. He believes interacting with stakeholders—providers, customers, partners, and investors—was a valuable tool to validate and refine their marketplace business idea.
Back in 2015, Anthony Collias lived next to King's Cross Station, one of the busiest parts of London and a major rail hub. The convenient location and a bit of extra room meant that friends were always eager to store their luggage at his place. A lightbulb moment for Collias came in the form of a joke: "sure, you can store luggage, but I'm charging you for it!"
The founding words of Stasher had been uttered.
Today, Stasher is a luggage storage network with 600 hosts in 70 cities. The service is primarily used by travelers who have checked out of their hotel or Airbnb, or people attending events or visiting locations that do not allow luggage. Instead of their initial idea of storing luggage in private homes, Stasher now recruits local businesses like shops and hotels to be the hosts.
After coming up with their first marketplace idea, Anthony Collias and his co-founder Jacob Wedderburn-Day launched their first prototype in 2016. The firsts hosts on the service were the two founders themselves.
– In retrospect, I think it was crucial that we started hosting right away. Not only did it allow us to test the provider experience, but it also gave us a chance to meet and interact with customers and hear their concerns directly.
In order to gain more information on customers' needs, Collias and Wedderburn-Day didn't put any limitations on the length of the storage they provided. Most of the bookings, however, tended to be for one day only and were booked either on the day in question or the night before. These early experiences convinced the founders that signing up private apartments as storage hosts was not the best solution.
– We soon came to the conclusion that, for a provider, it simply takes too much effort if you need to schedule your day based on your customers, Collias says.
– But then we realized businesses are open on fixed hours anyway, and most have a bit of extra space. This model immediately made more sense.
The founders started visiting local businesses door-to-door, signing them up as hosts to their service.
– Visiting these businesses really helped us to refine our pitch and our business idea. I think everybody should do some real door-to-door sales at some point.
Anthony Collias and Jacob Wedderburn-Day directly chose Sharetribe as their first marketplace software solution.
– Both Jacob and I are non-technical people, so building something ourselves or hiring someone to build our marketplace from nothing was initially not an option.
Sharetribe Go allowed Stasher to build their MVP (Minimum Viable Product) quickly and start working to validate their marketplace idea. Collias thinks that, more often than not, founders of tech startups don't properly take into account the time, effort, and cost needed to find software developers—people who can execute the founders' idea with the available budget.
– I think most people running startups will agree that it is extremely difficult to find good developers. Or for that matter, as a non-technical founder, to assess whether someone is a good developer or not, Collias says.
– Furthermore, the development lead you need at the MVP stage is often not the right person to fill the role of CTO as you grow. Using a pre-built service allows you to postpone that decision and validate your idea as you go.
Eventually, Stasher discovered that their needs extended beyond what Sharetribe Go was able to offer. Unfortunately for them, Sharetribe Flex was not yet available at the time, so they instead chose to hire a full development team and build a new platform from scratch.
Stasher's prototype became a fully functioning business in 2017, and the marketplace quickly expanded from its UK base to cities all over Europe, as well as into North America and Australia.
– When we expand to a new city, there are usually a couple of things that we look at, Anthony Collias says.
– We do competitive landscape research and keyword research and check out the demographics and the number of tourists and Airbnb bookings. The strength of our model is that once we've created a good process, we can launch a new city quite quickly, with relatively little cost.
Many marketplaces tend to have challenges with liquidity, the most crucial metric to measure marketplace success. Stasher's business model offers a neat solution to the chicken and egg problem: onboarding providers is very easy as the service offers ancillary revenue to businesses that are already open.
– Providers in marketplaces like Airbnb, for instance, need to open their house specifically for that service. Signing up to our service costs nothing to our providers, and their business is not dependent on our customers. This is just a nice extra for them.
In Stasher's case, one provider can also serve a good number of customers, which means that a new location can be launched with a relatively small initial supply.
– People shouldn't forget that, ultimately, growth is everything. Usually, other problems can resolve themselves as long as you can drive demand.
Anthony Collias mentions search engine optimization (SEO) and partnerships as their two key growth channels.
– SEO requires a lot of constant work, and it takes a long time to see the results. You need to start early.
Building partnerships is what most inspires Collias.
– Talking with potential partners requires you to honestly assess your offering and consider, who would actually benefit from partnering up with you and in what way? Also, don't be afraid to reach out directly or use your networks to start conversations.
The same notion, in Collias' opinion, applies to funding.
– I think most people don't realize that you need to treat fundraising as a sales process. Create a funnel, contact the people, follow up, do outreach, and use your networks, Collias explains.
Collias' advice is worth taking—this year, Stasher raised $1.1 million in seed funding.
– I think our biggest selling point to investors is the fact that our business is very asset-light. This means the business has a good chance of being profitable. The same is probably true for many marketplace concepts.
Though Stasher still relies on direct contacts to sign up new local businesses, the company now also works with larger chains like PremierInn in the UK and AccorHotels in France.
– Larger chains usually have a presence in many cities, so one partnership could easily cover all of our locations. Travel is quite a tight-knit ecosystem, where referral is a huge channel for businesses. One of the challenges for us at the moment is embedding ourselves into this ecosystem.
Collias shares his best, tried-and-tested tip for contacting potential partners:
– A good tip is to always reach quite high up in the ladder. The C-suite people will be the ones that see the opportunity in your idea, and when they pass it down for someone to look into, people give it much more serious consideration.
---

You might also like...