Vacate the VCs – An interview with Jeremiah Owyang
Advice on alternative ways to fund your marketplace startup.
Published on
Last updated on
Jeremiah Owyang offers budding entrepreneurs alternative ways to fund their marketplace startups.
– I would be very careful about getting too much funding from traditional venture capitalists, says Jeremiah Owyang, founder of Crowd Companies, a brand council for the collaborative economy.
Young entrepreneurs are eager to take money, but may not have considered the long-term impact it has on their marketplace and how it affects balancing the needs of buyers and sellers. According to Owyang, the sharing economy is "owned by the one percent". His spreadsheet shows that the wealthy have invested $28 billion in the collaborative economy.
– Right now, venture capitalists own most of the companies. Over 28 billion US dollars has been invested in this space, which is over twice as much as in social networks. In five to ten years, those investors are going to want their money back. That is going to create some challenges for the collaborative economy, which is supposed to be about community and people.
Entrepreneurs could offer equity to the users who help fund the company.
Currently, most of the money is invested in the transportation and finance sectors: car-sharing services like Uber, and crowdfunding and peer-to-peer lending. Physical space and coworking spots have also caught investors' eyes. Owyang feels this is just another form of capitalism to venture capitalists. Entrepreneurs should also consider alternative ways to fund their business.
– First, entrepreneurs could offer equity to users who help fund the company. Another option is more traditional crowdfunding campaigns directed at the whole market.
Entrepreneurs can use sites like Indiegogo and Kickstarter to start a crowdfunding campaign to raise funds for their peer-to-peer marketplace. In return, contributors receive perks and rewards.
– Perks could be access to new media, an opportunity to use the product before anyone else, special experiences, shout-outs, and credits, Owyang explains.
Some countries also have equity-based crowdfunding sites—like Crowdcube in the UK—where company equity is offered for contributors.
– Another way to get funding is from investors who are investing in projects that are designed to do social good. They are not solely focused on financial returns.
As a fourth option, Owyang suggests setting up a cooperative, in which the employees, customers, and members own the company together. Co-ops are a very traditional form of organization for grocery stores and farmers markets, and Owyang believes the structure can be applied to online marketplaces as well.
To visualize what sectors are currently being disrupted by online marketplaces, Owyang uses the symbol of a honeycomb. Just as the honeycomb enables honeybees to access, share, and grow resources within their community, the collaborative economy allows people to get what they need from their peers.
The first version of the honeycomb graphic included six industries permeated by the collaborative economy: goods, food, services, transportation, space, and money. The second edition had twelve industries and the most recent one already has 16.
– There are too many companies in each of those hexagons, Owyang explains.
– I could not fit in all the logos.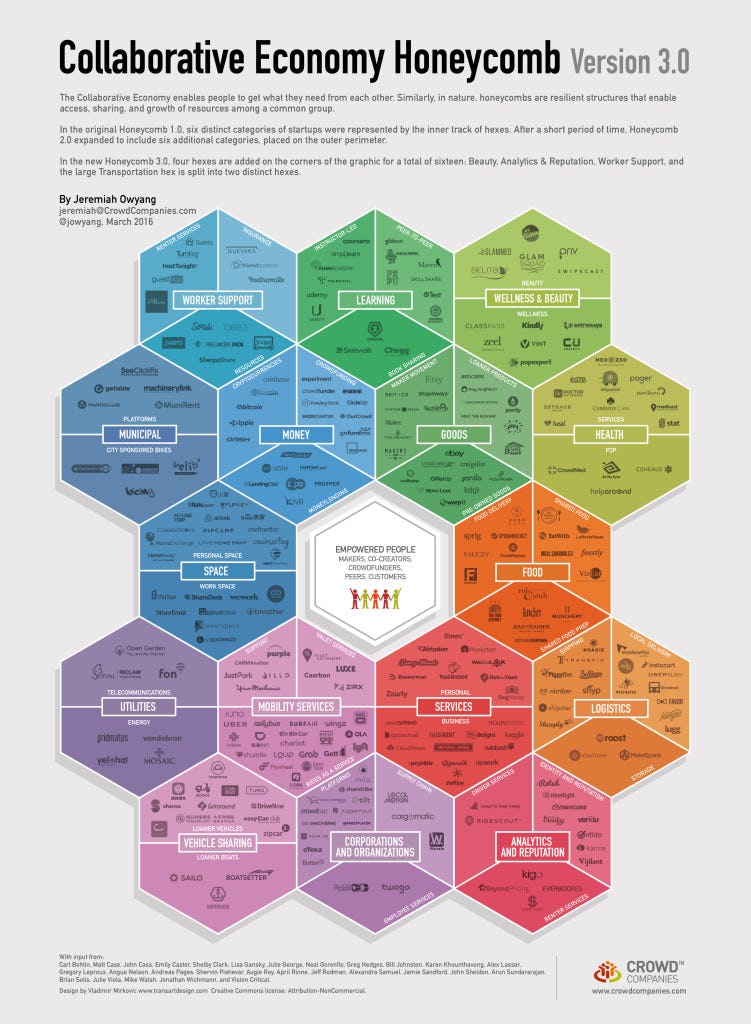 Although there are a lot of players in these sectors, Owyang believes there is room for more.
– There are new areas with only a few players. You can see it is empty here.
He points towards the health and wellness and municipal sector hexagons. There is less competition in these hexes, which might be due to less demand.
– One hexagon that is not included at all but could be eventually added is agriculture.
Entrepreneurs can build software that helps companies learn how to share.
Within the corporate sector, entrepreneurs may also profit from existing corporations' interest in participating in the collaborative economy.
– Entrepreneurs can build software that helps companies learn how to share, encouraging employees, customers, and partners to share. With supply chain, for instance, you can find Cargomatic and Local Motion, two start-ups that help companies increase fleet utilization.
While Cargomatic connects local shippers with carrier companies who have extra space in their trucks, Local Motion by Zipcar lets companies share vehicles efficiently. Owyang also highlights the use of customizable platforms like Sharetribe, which help people quickly set up their own marketplaces.
– Sharetribe could even be used inside a company to teach employees how to share.
While the startups are building the software that enables everything to happen, the crowd is the one that distributes goods or shares resources using the software. According to Owyang, there are three things marketplace entrepreneurs need to balance.
– The platform (which is your software), the providers (which are the people offering goods and services), and the partakers (the ones that buy and borrow these things).
The crowd itself is becoming like a company.
To involve the partakers, you need to find out which social platforms your users are already on and use those channels.
– The collaborative economy could not really exist without social media: rating, reviews, and word of mouth. It is the precursor to this market. Social media data is even used to build trust. You need to use those channels.
With empowering platforms, people turn their own life into small enterprises.
– Please do not call them consumers, Owyang states.
– The crowd itself is becoming like a company.
---

You might also like...