How to leverage word-of-mouth to start and grow your marketplace business
Word-of-mouth creates lasting customer relationships. This guest article offers effective strategies to help optimize your marketplace for positive WOM.
Published on
Last updated on
This is a guest post by Pulkit Bhardwaj, a writer for ReferralCandy. ReferralCandy's software powers referral marketing programs for online businesses.
---
Greg Cordell, the author behind Brains on Fire, said that "the focus of companies should be humans and not technology". As an entrepreneur, when you're just starting to build your audience, you should focus on awareness-building and branding.
Word-of-mouth has been used since the dawn of business to create lasting customer relationships, and this method remains a strong weapon in today's advertising arsenal.
Let's dive into several strategies successful marketplace founders have used to build and maintain their user base.
As a marketplace business owner, you must verify the reputation and legitimacy of your providers in order to build high-quality supply for your marketplace. To do this, you will need to consider a variety of factors.
These factors are somewhat similar to Google's quality rating guidelines used to analyze the reputation of a website. Google clarified in a tweet that feedback is one of the most important factors used in helping Google evaluate a marketplace. Word-of-mouth helps solidify a brand's expertise and reputation with an audience. This is how you can use it for your marketplace.
One of the simplest ways of vetting providers using word-of-mouth is by checking their online presence.
If your providers are businesses, you can analyze their reviews and ratings on other platforms to know their credibility. You can directly ask the potential provider tp share the business information (seller's permit, for instance). Once you have it, use the website of that state to confirm the permit. For example, if your provider's license is California-based, you can use CDFTA's website. Similarly, if a provider claims a specific certification, like TCO, you can confirm it on the official certification provider's website.
Basic information like the provider's address, contact information, and so forth, could be uncovered with a simple Google search. Here is the information you could verify through a search:
Business license/seller's permit
EIN number (if LLP)
Social profile, online reviews, and consumer complaints (if applicable)
Contact information
Certifications from partners and subsidiaries
Product Quality
Social Compliance and Environmental certification
Every provider, particularly one that is a business, should offer several different ways to prove their credibility. You can also ask them to share customer reviews, employee details, and other information. Depending on what your marketplace focuses on, you may even want to ask for sample products or services so you can analyze the offering that will be featured on your marketplace.
If your providers are individuals, you won't have access to all of this information. However, it can still be a good idea to do some searches and see, for example, if you can find them on other marketplaces or forums. That might give you some indication of how active they are and what sort of reviews they get.
Especially when dealing with providers that are businesses, try to search for the real story behind every brand you consider adding to your marketplace. Use Google's features designed to help improve search results by visiting the platform's advanced search to learn how it can narrow down your investigation.

Another way to investigate providers, whether they are businesses or individuals, is by using reverse image search. Open Google Image search and upload/drop the image of the product provided by your user. This is a great way to learn if the provider has copied a product from somewhere else, or if the product image is copied from another source. If this reveals your provider has listed the same item on another platform, you can use the opportunity to check their reviews there.
Just like you want to work with good-quality providers, providers want to work with good-quality marketplaces. Providers will leverage word-of-mouth to vet potential marketplaces the same way you use it to vet them. As a marketplace entrepreneur, you need to ensure that you present yourself as a powerful business partner.
Everyone loves a good story. Connect with your providers by turning them into readers.
Share the achievements of current sellers to attract potential sellers. Inspire providers and motivate them to be a part of your marketplace. Popular brands like Uber, Houzz, and Amazon all feature success stories of providers to inspire new ones. Highlighting users' stories is also a powerful way to strengthen the community around your marketplace.
Maintaining a blog is a good way to draw providers' attention and generate positive word-of-mouth.
Create data-driven posts that share the latest statistics and help providers understand your marketplace. Write content that educates them about how to be successful on your platform. See how local content could help you target a specific audience.
The reason that content creation is the #1 inbound marketing strategy is that it helps you rank on search engines like Google. Google is the best way to get targeted traffic to your marketplace business.
Use content distribution channels like YouTube, Instagram, Facebook, Medium, and others to attract high-quality, targeted providers.
For most marketplaces, the first step on the road to success is building supply.
However, a good-quality product isn't all you need to overwhelm the competition.
While the quality of your initial supply is important, strong user acquisition and retention strategies are necessary to grow and balance supply and demand. What is more, retaining existing users is often more effective than acquisition in growing your marketplace. In customer retention, word-of-mouth marketing can have a big impact.
A well-designed value proposition represents your product in an engaging way.
Tell your audience exactly how your marketplace will make their life better. You can break down the proposition story into steps. Your value proposition should inspire, empower or connect with customers on a personal level.
PeoplePerHour is a freelancers marketplace with a near-perfect value proposition. The design of their landing page supports it. They used the Z-pattern landing page design to create a nice call to action. They added a word-of-mouth element (customer testimonial) to the bottom-right corner where most eyes land.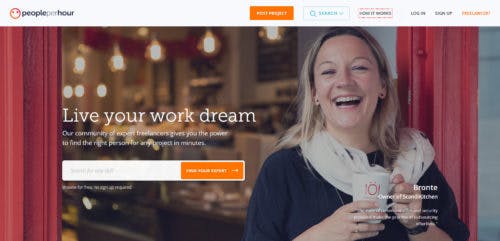 If you look at PeoplePerHour's landing page content, you'll also notice how they smartly target all the user groups: Heading 1 targets the freelancers, and Heading 2 targets the customers. At the same time, their design is minimalistic, providing a smooth interface.
Another great value proposition example is UberEats.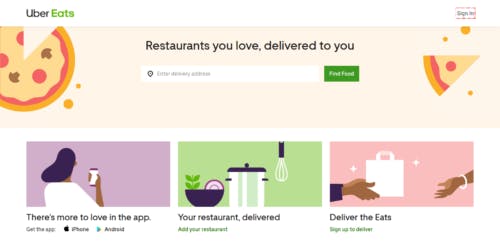 When you create a landing page, always think carefully which side of the marketplace you're targeting. If providers are the harder side to get, target them first. If you have a good supply in place, target the customer side. UberEats has a lot of providers (enough to fulfill customer demand), so they focus on the customers. They simply share the service they provide in 6 words: "Restaurants you love, delivered to you". The delivery widget is added just below the landing page header. Secondary elements on the site prompt to download the app and target providers, both restaurants and deliverers.
In addition to a great user acquisition channel, storytelling is a phenomenal strategy for customer retention as well as provider relationship-building. It's also a great way to showcase word-of-mouth.
Popular brands like Airbnb build compelling stories that highlight their customers' experience. These stories help them connect with users, both customers and providers, on an emotional level.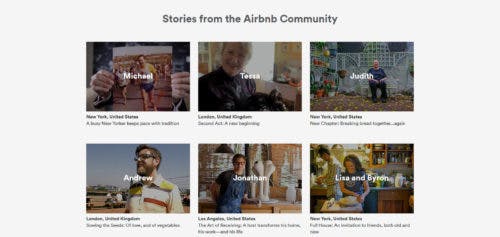 Community-building is a particularly powerful strategy to engage with your providers. Maintaining great relationships here will build a strong reputation for you in the provider community. This will help attract more providers to your marketplace business organically.
Your ultimate goal should be to work with your providers as if they are your business partners. While storytelling is a great place to start, this kind of relationship is challenging to nurture with content only. Personal connection is key here. Visit networking events and arrange them yourself to rub shoulders with your top providers.
A similarity between Google bots and your users is that they both appreciate a nice UX. If your site takes a lot of time loading your value proposition, your customers will lose interest.
Optimize your marketplace to show search results faster, and use navigation tags to help visitors navigate your website. User experience plays a major role in creating a convenient interface, which, in turn, will affect your sales. Making your interface convenient will help your providers get faster payment, and your customers to buy quickly. Building a convenient interface will also discourage customers from going around your platform. For instance, Upwork provides such a swift user experience from finding a professional to paying them that a user would never go about contacting providers directly.
You can also leverage word-of-mouth to improve your user experience. Offering a way (whether it be a rating system or a review page) for customers and providers to rate their experience is an essential part of any marketplace. While reviews help your users build their own reputation through word-of-mouth, they increase trust, and you can use them to improve the experience on your platform. Take note, for instance, if a user likes the product but drops their rating because the booking calendar didn't work properly or there were issues with online payment.
Another important angle you need to cover is protecting both your buyer and your seller.
Sometimes, protection is simply a formal contract between the two parties that helps to safeguard them. A marketplace typically removes cash from the interaction by facilitating transactions, which definitely helps improve safety for both parties. However, that means you need to be able to provide a secure, trusted payment system.
Every marketplace is different and has a different set of risks to take into account. For instance, if you look at Uber, they offer lots of details on their safety commitment for both providers and customers, addressing the specific concerns of both parties. They also protect both the drivers' and customers' money by using a digitally secure interface.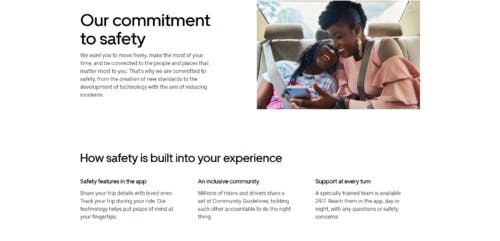 Keep customers happy by ensuring that every purchase results in a happy customer, especially in cases where they encounter a problem.
Almost all major brands use chatbots, support forums, help emails, and phone support. To be competitive, you need to do more than that.
Appoint trained staff members who go out of their way to help customers. Your customer support team should be integrated into your provider-relationship strategy. The team should stay in touch with providers on a regular basis. This will help the sales representatives in handling returns, cancellations, or shipment issues.
One of the best ways to improve user loyalty and generate heaps of positive word-of-mouth is reciprocation. There are many different ways to do it, so find the best way that suits your marketplace brand and resonates with your particular target audience.
Reciprocation can be something as simple as a discount code. Send personalized emails with discount coupons to customers who make frequent purchases.

You can also set up a customer loyalty program designed to reward regular customers. These programs can also help to convert new visitors into customers.
What is more, reciprocation doesn't always have to be addressed directly to customers. Designs That Donate is a growing online marketplace that turns reciprocation into acts-of-kindness. They donate a sum to a charity of the customer's choice for every purchase made on their website.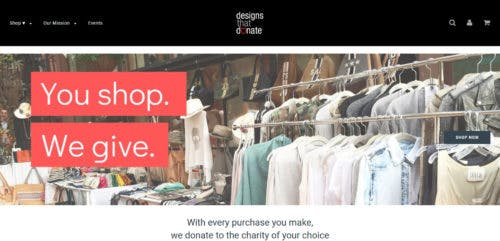 You can reciprocate providers' efforts, too.
Popular e-commerce platforms like Amazon reward their top, popular sellers by improving their rankings on the platform. A simpler strategy is to drop a congratulatory email to the provider behind your best performing product or service. Even the best-quality provider will appreciate knowing their efforts have been noticed.
---

You might also like...