A comparison of insurance options of selected online marketplaces
In this article, we'll showcase and compare insurance options provided by a selected group of online marketplaces across different sectors.
In this article, we will showcase trust solutions built by both household names and lesser-known P2P platforms—some with a global footprint and others more local in nature—in four key sectors:
Transport
Spaces
Goods
Services
The sheer diversity of custom insurance solutions on sharing economy platforms is a testament to the creativity, can-do attitude and determination of the sector to enshrine insurance and trust as a key pillar of their business models. We hope that budding entrepreneurs will find commonalities with their business and be inspired by some of the examples discussed below.
Article continues below image↓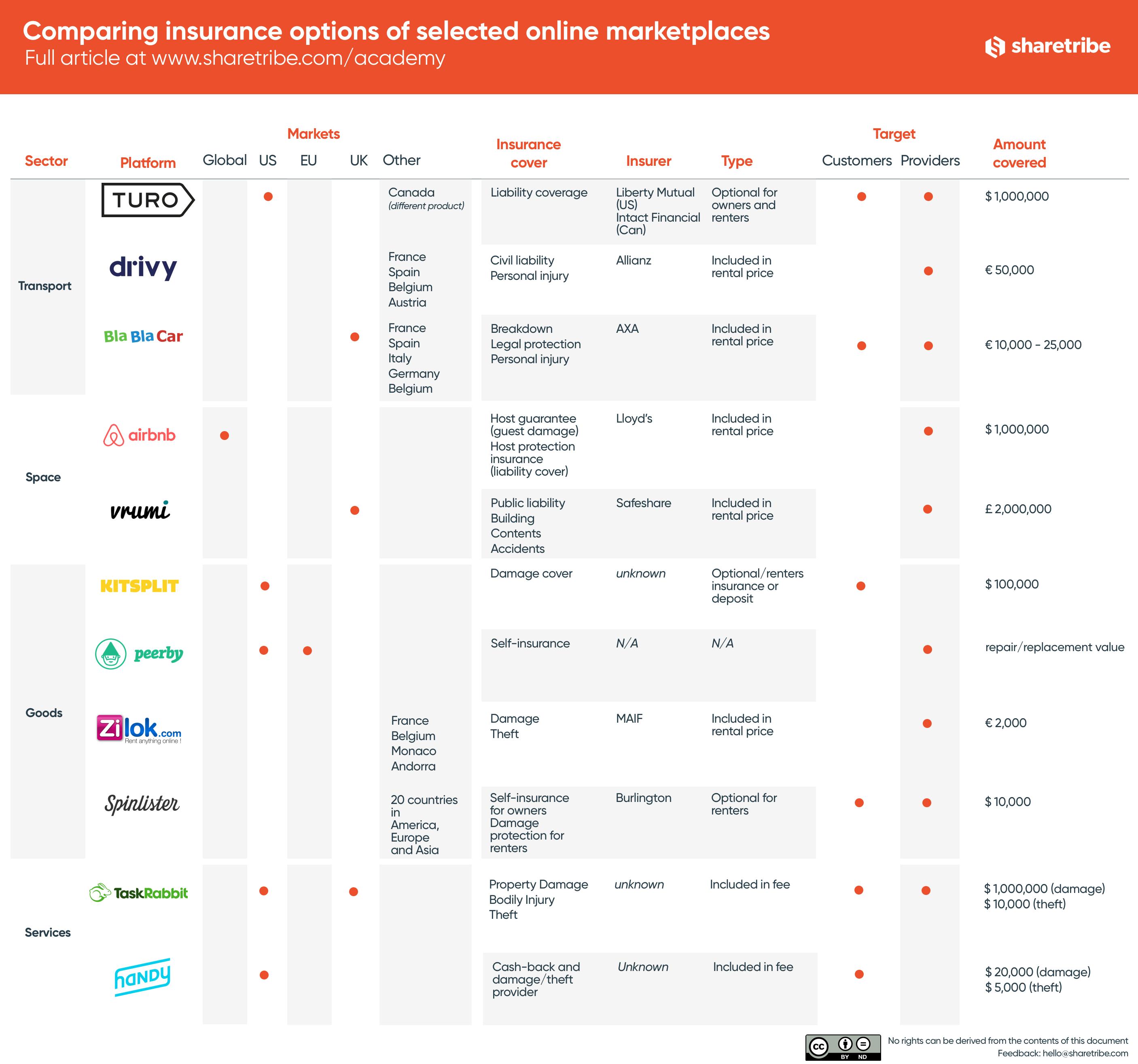 1. Transport
Turo
Established in 2009, Turo—formerly called RelayRides—is a P2P carsharing marketplace that allows private car owners to rent out their vehicles. While the company originally focused on short-term, hourly car rentals, the majority of its growth has been driven by longer rentals of one day or more. In November 2015, RelayRides rebranded as Turo to reflect the company's shift away from short-term rides. The average rental for the company is now about four days. The company launched its service in Canada in April 2016 and in the UK in December 2016.
Christin Di Scipio, Head of Communications at Turo, says:
– Insurance is the bedrock of our marketplace. When we were founded in 2009 by Shelby Clark, he created our insurance policy to ensure that all Turo members would be covered while renting or renting out cars on Turo. A marketplace such as ours couldn't grow without a strong insurance policy.
Turo has stricken a deal with Liberty Mutual in the US and with Intact Insurance in Canada. Other insurers are anticipated to support Turo as more of their customers use the app. Last year, La Capitale General Insurance and its subsidiary, L'Unique General Insurance, allowed their customers to participate in Turo's peer-to-peer service.
In the US, the company offers $1 million in liability coverage to protect car owners against lawsuits for injuries and property damage. In general terms, listed cars must be manufactured in 2005 or later with an odometer reading below 130,000 miles. All Turo users are screened for trust and safety purposes. If a Turo host (owner) is using his or her car for personal use, the owner's personal insurance coverage applies. Once the vehicle is being delivered to a Turo lessee or is being used by a lessee, Turo's commercial insurance coverage kicks in.
Turo renters have the option to purchase insurance from Turo when they rent a vehicle—much the same way they would from a standard car rental company. Turo offers three vehicle protection plans for owners in the US: "Premium", "Standard", and "Basic". All are charged as an additional fee on each trip. Each of the three Turo plans provide $1,000,000 in liability protection but differ in other ways, particularly in how physical damage is covered. If an accident happens during a Turo trip, Turo's "Premium" or "Standard" protection plan holders will receive either a replacement vehicle or be reimbursed up to $30 per day (up to 10 days) for transportation needs while the vehicle is being repaired. Terms are also slightly different in Canada: if an owner chooses to decline a Turo protection plan, they must provide commercial insurance that is verified by Turo prior to renting out their vehicles.
Insurance is absolutely critical to Turo. As they continue to expand, Turo is investing in insurance innovation. In the UK, for example, Turo has launched using a new OPI (owner-provided insurance) offering. This means that small fleet owners in the UK can list their cars on Turo if they provide their own commercial insurance policy.
Drivy
Drivy is a peer-to-peer carsharing startup that has become Europe's largest car rental marketplace. Drivy was founded in France in 2010 and started expanding internationally with Germany in 2014, followed by Spain in 2015. Drivy continued its international expansion in June 2016 by launching its services in Belgium and Austria, months after raising €31M. Currently, Drivy lists over 40 000 cars, has accounts for 1 million users, and is looking to expand into more European countries.
According to Drivy, insurance is a fundamental pillar that underpins its business. Back in 2010, it took Drivy one year to secure a contract specifically tailored to peer-to-peer car rental. Drivy's founder, Paulin Dementhon, did the rounds with insurers before signing a partnership with MMA:
– The Sharing Economy was new for insurers then. It was very risky for insurers to insure the P2P ridesharing business model as they had no data or success record.
In 2014, Drivy switched to Allianz to offer further protection for drivers, providing coverage for civil liability and bodily injury. Car owners are also compensated in the event of damage. Drivy also partnered with Mondial Assistance which provides assistance in case of a breakdown.
When a rental is booked on Drivy, its Allianz insurance product automatically replaces the car owner's insurance for the duration of the rental. The cost of the insurance premium is included in the rental prices displayed on the website and represents around half of Drivy's commission. Drivy lists "standard" cars and commercial vans under 3.5 tons. Luxury cars, motorbikes, camping vans, and quads are not accepted. In the event of an accident, the driver pays the cost of repairs up to the insurance deductible and the insurance pays for the rest. Drivy covers third-party liability, damage to your car, fire, and theft by the renter or a third party.
The same insurance product is available in all the countries Drivy operates in. It has also introduced a number of improvements to its insurance coverage, such as reduced deductibles and full deductibles. In the beginning, Drivy offered only one deductible of 800€. Over time, it realized that the deductible was costly compared to the price of the rentals and their users' budget, so it introduced a reduced deductible option of 150€.
To accommodate evolving user demand and lifestyles, Drivy is currently developing yet another iteration of its insurance contract. For example, they are gradually moving from three day rentals to day and half-day rentals that can be reserved just a few minutes in advance. Using mobile apps, Drivy is making its insurance product increasingly frictionless to enable shorter rentals. Additionally, Drivy provides paperless insurance services as an option. Details about the vehicle's condition and mileage are displayed directly on the owner's app. Mobile contracts and electronic signatures are also available.
Drivy's coverage can be summarized as follows:
Theft, fire and damage to the vehicle for up to €50,000.
Vehicles that are less than 12 months old are covered for their purchase value (as opposed to the value computed by an expert).
All parts of the vehicle (comprising the upper parts), broken glass and tires (with the exception of punctures) are insured.
Roadside assistance covers full breakdown service for your vehicle and transport to the repair shop to pick it up in case of breakdown or accident.
BlaBlaCar
BlaClaCar, the French startup that was founded in 2006, is now the leading European carpooling startup, enabling passengers and drivers heading in the same direction to share the journey and associated costs. In some countries, BlaBlaCar charges a commission for every ride shared. The company is currently valued at over a billion dollars, is active in over 20 countries worldwide, and has over 25 million registered users.
In May 2015, BlaBlaCar announced a partnership with AXA to offer its users in France an innovative insurance product that provides free additional insurance cover for long-distance ridesharing (in addition to drivers' existing insurance policies). The partnership was subsequently extended to Spain, Italy, Germany, UK, and Belgium, where slightly different terms apply.
The policy includes:
Breakdown cover and onward travel
All persons in the vehicle are covered up to a maximum of 6 passengers. Where necessary, the cover will include roadside repair and/or towing to the nearest garage, transport to the planned destination or back to the pick-up point, 
and overnight accommodation.
Legal Protection
In case of an incident on a ride, drivers can call a 24-hour hotline for legal advice. Legal fees are also covered up to €10,000.
Personal Accident

BlaBlaCar increases drivers' level of protection. In case of a serious accident leading to death or permanent total disability, the driver or their beneficiaries receive an extra €25,000.
Passengers are insured to drive
Any additional insurance fees are covered.
Found objects retrieval
2. Spaces
Airbnb
Peer-to-peer accommodation platform Airbnb was founded in San Francisco in 2008. Today, the company has over 3,000,000 listings in 65,000 cities and 191 countries. In March 2017, Airbnb raised $1 billion in additional funding with a valuation of $31 billion.
A 2011 landmark incident, referred to as 'Ransackgate', involved a woman renting out her San Francisco apartment on Airbnb. The guests vandalized the property, burning many of her possessions and stealing birth certificates, social security numbers, and credit cards that were kept in a safe. This event prompted Airbnb to create a $1M Host Guarantee—underwritten by Lloyd's of London—and to offer it, free of charge, in a number of countries. This Host Guarantee needs to be reported within 14 days, only covers deliberate property damage by a guest, is applied in excess of any homeowner's primary policy, and only after seeking and failing to recover damages from the guest. The State Superintendent investigated whether there was a liability gap, which prompted Airbnb to introduce a Host Protection Insurance in November 2014. It automatically provides $1 million liability coverage to hosts in excess of their primary coverage.
Host Guarantee
The Airbnb Host Guarantee provides protection for up to $1,000,000 for damages to the property or possessions in the event of damages above the security deposit or if no security deposit is in place.
The Host Guarantee Program does not cover cash and securities, collectibles, rare artwork, jewelry, pets, or personal liability. The program also does not cover loss or damage to property due to wear and tear.
Host Protection Insurance
The Host Protection Insurance program provides primary liability coverage for up to $1,000,000 per occurrence in the event of a third-party claim of bodily injury or property damage related to an Airbnb stay. The Host Protection Insurance program is available to hosts regardless of their other insurance arrangements, but will only act as primary insurance coverage for incidents related to an Airbnb stay.
According to some analysts, Airbnb is not actually offering insurance. Rather, this coverage is being offered as a "program" and is completely subjective as the host is not named on any insurance policy. Airbnb has the final say on what claims get paid out.
See the Airbnb terms of service:
Airbnb recommends that Hosts obtain appropriate insurance for their Accommodations. Please review any insurance policy that you may have for your Accommodation carefully, and in particular please make sure that you are familiar with and understand any exclusions to, and any deductibles that may apply for, such insurance policy, including, but not limited to, whether or not your insurance policy will cover the actions or inactions of Guests (and the individuals the Guest invites to the Accommodation, if applicable) while at your Accommodation.
Vrumi
Vrumi, the "Airbnb of shared workspace", connects people seeking affordable workspace to householders with daytime rooms to let. It was founded in London in 2014 and targets the self-employed, freelancers, micro-workers, and other professionals who want to find places to work in in areas they weren't able to afford. For householders, Vrumi provides an additional source of income from rooms in their homes that are sitting idle during the day.
Vrumi has partnered with SafeShare Global, a blockchain-fuelled insurance startup underwritten by Lloyd's of London. The insurance product uses blockchain technology to confirm counter-party obligations, which enables a flexible and responsive product at a reasonable price. The underlying replicated, authoritative and immutable ledger ensures that a trusted record of insured parties is maintained.
Roddy Campbell, Vrumi's co-founder notes:
– Insurance is the biggest practical problem we face, not that it is insoluble but the insurance industry is not set up for us so it will take time to develop a suite of products we can provide to Hosts who cannot get appropriate cover through their existing insurers.
The insurance service arranged by Vrumi is opt-in and comes with a 24-hour claim service hotline. Under the policy, Vrumi is the master policyholder and each individual host is a named "insured person" for each transaction made through the website. Every host has confidence that the insurance policy fully provides coverage, is suitable for Vrumi use, and is unaffected by the actions of other Vrumi users.
The Vrumi policy provides the following cover:
Public Liability: £ 2,000,000
Buildings: £ 500,000
Contents: £ 75,000
Accident to Domestic Staff: £ 5,000,000
3. 
Goods
KitSplit
KitSplit is a P2P rental network for cameras and related equipment. Photographers who need equipment at a specific location are put in touch with owners who are willing to rent their gear out. The company was founded in 2014 in New York by photographers who were unhappy with equipment rental options. KitSplit has tens of thousands of users, mostly on the US east coast. They have also soft launched in several areas in the USA.
Gear on rent has a wide range of value—from very low-value camera accessories to cameras that are worth up to $100,000. For some users, the gear they rent out on KitSplit represents some of their most valuable possessions, making the availability of insurance a must for the platform to take off.
KitSplit had a vision of the kind of insurance they wanted: a program that would cover all types of camera gear, from something worth $50 to something worth $100,000, and insurance that could be purchased instantly on the site during the checkout process.
KitSplit talked to dozens of brokers and insurance providers who didn't understand the business model and said "this kind of insurance cannot be done". Finally, they found a couple of top brokers in the film/entertainment industry with whom they were able to create a plan: renters must purchase insurance, a damage waiver, or leave a full deposit as summarized below. In addition, the company vets everyone who joins KitSplit to ensure safety and security on the platform.
KitSplit rental insurance policies:
1. Buy instant short-term rental insurance or damage coverage:
Renters can purchase a damage waiver or a short-term insurance policy at checkout and get an instant quote and instant coverage for any rental. 

The damage waiver is for gear under $10k while short-term insurance is for gear worth over $10k.
2. Use your long-term equipment insurance:
Renters can use their own long-term equipment policy to cover rentals. The policy needs to be current and eligible to cover the rental. The renter needs to upload a Certificate of Insurance (COI) that lists the equipment owner and KitSplit as the loss payee and certificate holder. The KitSplit team will call the insurance company to verify that the insurance properly covers the equipment.
3. Leave a deposit for the full value of the equipment:
For rentals shorter than 5 days, renters can choose to leave a deposit for the value of the equipment in the form of a credit card hold.
Peerby
Peerby, an Amsterdam-based social start-up, was established in 2012. It lets people borrow or rent things from their neighbors through an online platform. Its mission is to "give instant access to everything, everywhere for everyone". Peerby started as friendly borrowing between neighbors after the house of the founder, Daan Weddepohl (who we interviewed earlier), burned down. From that experience, Weddepohl realized many people were willing to help others by lending stuff to them and decided to build a business that would make it easier.
Since then, Peerby has evolved into a hyperlocal website with active communities in over 20 cities across Europe, including London and Paris. It has launched pilot projects in over 10 American cities such as New York and San Francisco. It expects to have a network of owners and renters in all major American cities by 2017. Currently, the site has over 500,000 registered members.
Peerby's initial business model was based on Weddepohl's discovery that many people are happy to lend items to their neighbours for free. Nowadays, however, items worth up to €2000 (i.e. cargo bikes and gaming consoles) are exchanged on the site, leading many users to express concern for their items going missing or being damaged. As a result, the company decided to sell insurance and delivery services rather than taking a cut of the rental fee.
Initially, Peerby partnered with an insurance company to allow lenders to require borrowers to pay extra to insure the product for damage, theft or loss. However, purchasing insurance required the borrowers to jump through additional hoops and most of them ended up choosing items that didn't require insurance.
Taking stock of the experience, Peerby made the decision to forgo the optional insurance coverage and apply a transaction fee to all rentals instead, greatly improving the user experience for borrowers. This change allowed them to self-insure all items by including the cost of replacement or repair in the fee.
Weddepohl reflects:
– I believe you should only work with insurance partners if the financial risk is too high for you to afford. In our case, we're dealing with relatively low-value items and we had enough data to know that the ratio of incidents was rather low. Therefore, it's more economically efficient for us to self-insure. It also allowed us to provide a smoother experience to our users.
Spinlister
Spinlister is a P2P platform for sharing outdoor sporting gear, specifically bikes, surf boards, SUPs, skis, and snowboards. It was founded in 2011 and is headquartered California. Bikes are the company's primary market. The platform has listings in 63 countries and users from 120 countries around the world. Spinlister takes a 17.5% cut of the listing fee. In 2016, Spinlister expanded their platform to include bike shops and bike rental companies through their Bike Shop Partner Program.
From the outset, Spinlister has guaranteed listed items. In the event of theft, damage, or loss, the ride is covered by the renter as detailed in the renters' agreement. However, if the ride is damaged or stolen during a rental period and the renter is unable to reimburse the fair value of the ride, Spinlister will self-insure and cover the cost up to the market value based on ride type and location. The Spinlister Guarantee Program is not insurance and does not replace the homeowner's or renter's insurance. The guarantee does not cover renters, who are responsible for any damage or theft that happened during their rental. However, renters can purchase theft or damage protection for their bookings.
In July 2014, Spinlister doubled their guarantee to cover bikes up to $10,000. Coverage includes users in the US, Canada, Germany, UK, Ireland, Spain, Italy, Portugal, France, Netherlands, Switzerland, Belgium, Sweden, Denmark, Austria, Japan, New Zealand, and Australia.
Spinlister has sponsored IRONMAN, GranFondo NY and other high-end bike events for the last 2 years. Many of the triathlon bikes are worth more than $5,000 and thus it is critical for the company to ensure that triathletes feel comfortable renting out their bikes.
The Spinlister Guarantee Program
Bikes: Up to $10,000 listed in the United States, Canada, Germany, UK, Ireland, Spain, Italy, Portugal, France, Netherlands, Switzerland, Belgium, Sweden, Denmark, Austria, Japan, Singapore, Hong Kong, New Zealand, and Australia.
Surfboard & Stand Up Paddleboards (SUP): Up to $2,000 listed anywhere around the world.
Skis & Snowboards: Up to $1,000 listed anywhere around the world.
4. Services
TaskRabbit
Founded in 2008, TaskRabbit is a P2P marketplace that matches freelancers with local demand, allowing users to find immediate help with everyday tasks such as cleaning, moving, delivery, and handyman work. TaskRabbit operates in 24 cities across the U.S and U.K. The company has recently announced an expansion into 5 new cities. There are over 60,000 Taskers on the platform, with approximately 20,000 new organic Tasker applications received per month.
In July 2014, the company launched an insurance product, the "TaskRabbit Happiness Pledge", of up to $1 million for property damage or bodily injury. It also insures losses due to theft for up to $10,000. TaskRabbit itself covers the premiums and deductible of the insurance.
Offering insurance was part of a broader business model overhaul that took place in the company during 2014. TaskRabbit said:
– Insurance is a big step toward convincing people who haven't used the service that it is safe while also insisting that everything has been perfectly safe all along. People said they wanted a more robust and systematic way to know that every task is covered.
In addition, TaskRabbit has a comprehensive vetting and background check process that each Tasker must go through to task on the platform, including an in-person orientation session.
TaskRabbit has a similar guarantee to Airbnb in that it protects both its clients and Taskers up to $1,000,000 in the case of losses or damages. TaskRabbit will cover both damages to a client's home and medical injuries sustained by a client, Tasker, or third party. In both cases, the Tasker must be found to be negligent in the incident for TaskRabbit to cover it. If a Tasker is injured and the client is found negligent, the client's renters insurance policy will cover the Tasker's medical bill. TaskRabbit's Guarantee, however, is secondary coverage to any insurance or policies the renter may already have in place. These include medical insurance coverage, renter's insurance, homeowner's insurance, and so on. In addition, all complaints must be submitted within 14 days of the action giving rise to the claim.
Summary of the guarantee:
TaskRabbit will compensate users, both clients and Taskers, up to $1,000,000 per occurrence for losses arising from:
Property damage as a direct result of negligence of a Tasker during performance of a Task
Bodily injury sustained by a client, Tasker or a third party as a direct result of negligence of a Tasker during performance of a Task
Clients up to $10,000 per occurrence for losses arising from theft of client's, Tasker's or a third party's property by a Tasker during performance of a Task.
Handy
Handy was set up in 2011 in New York. The platform connects individuals looking for household services with pre-screened independent service professionals. Handy matches thousands of customers every week with trusted professionals in cities all around the world. The platform provides a seamless 60-second booking process, secure payment, and a 100% money-back guarantee.
The Handy Happiness Guarantee states:
Your happiness is our goal. If you're not happy, we'll work to make it right. Handy strives to match you with the right pro for you and your home every time. If you're not satisfied with the quality of the service of one of your pros, let us know and we'll work to make it right.
If the client is not satisfied with the quality of a service requested and paid for through the Handy Platform, Handy will send another professional to redo the service.
Every booking made through the Handy platform is insured. Subject to certain terms and conditions, the Handy Happiness Guarantee applies if the scope of work that was charged was not completed to the client's satisfaction, or the property was damaged as a direct result of the service. The claim needs to be raised within 72 hours. The Handy Happiness Guarantee will only compensate for losses not covered by the client's personal insurance.
Handy will compensate requesters:
Up to USD $20,000 for losses arising from property damage as a direct result of negligence.
Up to USD $5,000 for losses arising from theft.
In closing
This is the last of the Marketplace Academy's three-article series on insurance in the sharing economy. Our first article provided an overview of the challenges and opportunities of insurance in the sharing economy, while the second article introduced the insurers in the field. Insurance is a complex topic that is becoming a concern both for entrepreneurs and for increasingly savvy users who are demanding more security and peace of mind when engaging with P2P platforms.
One key take-away is that insurance is still unchartered territory for most of the players involved. There is a steep learning curve for everyone. However, the future looks promising. As we have shown, platforms, insurers, brokers and insurtechs are increasingly collaborating to co-create innovative, bespoke solutions in different sectors to suit a wide range of users and business models. We are also witnessing a time of rapid change and huge opportunity, where platforms can potentially add unique value for their users, gain a competitive advantage, and attract a larger, security-minded user base.