From marketplace idea to profitability in a matter of months
An interview with the founders of Cycle.land, the Sharetribe-powered bike-sharing marketplace that raised more than £400,000 in equity crowdfunding.
Published on
Last updated on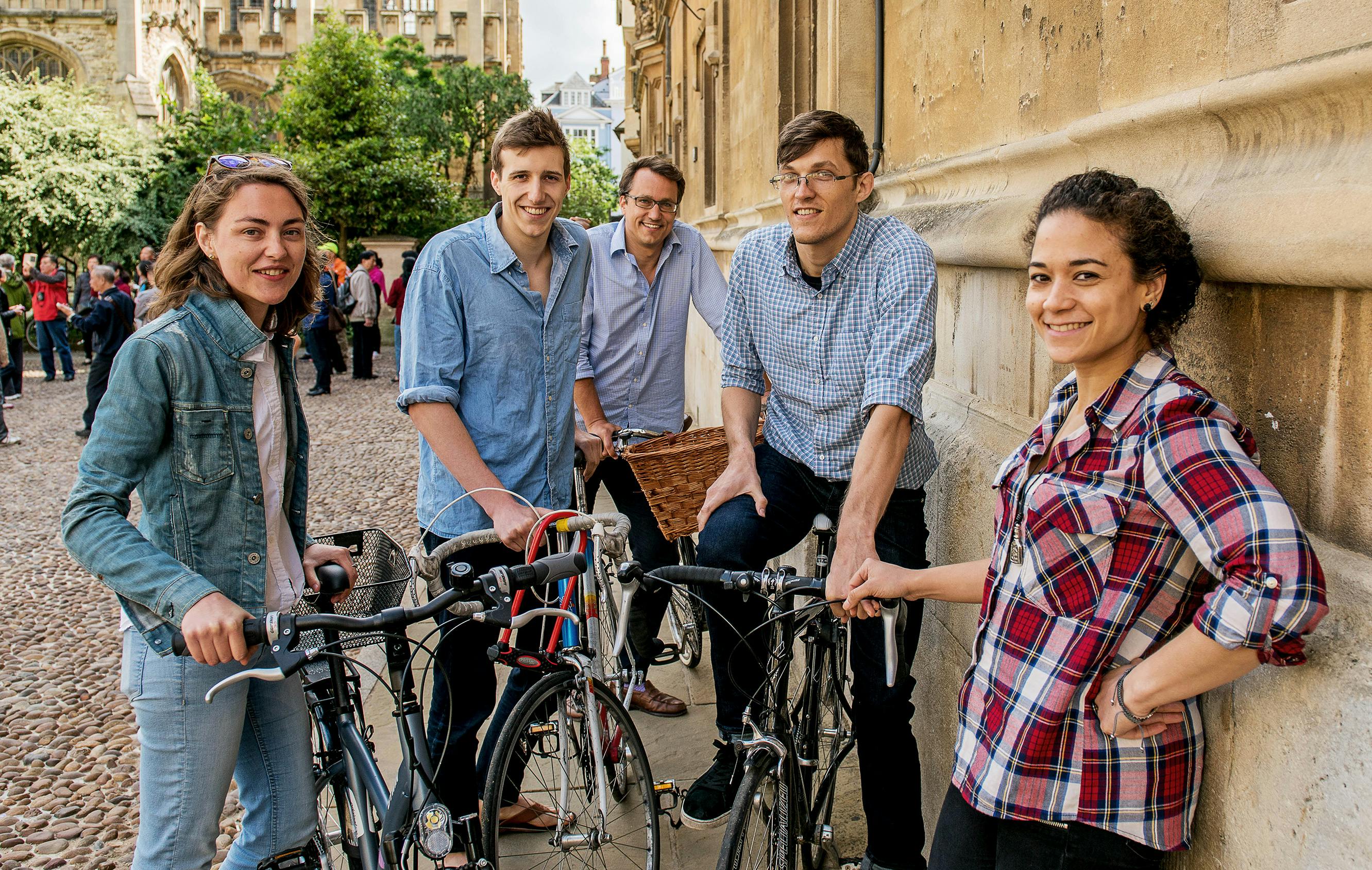 Inspiration and insights from global marketplace experts and thought leaders. An interview with Cycle.Land founders Agne Milukaite and Peter Ebsen.
---
The founders of Cycle.land were able to build their marketplace business with no tech skills, and raised more than £400,000 in equity crowdfunding less than a year after getting the idea.
In the city of Oxford, bikes are everywhere. However, as a tourist, you're out of luck; there's no easy way to access a bike as the city does not have a public bike-sharing program. Oxford graduates Agne Milukaite and Peter Ebsen decided to do something about the situation by starting Cycle.land, a peer-to-peer bike rental marketplace.
– Public bike-sharing programs are expensive for cities. Cycle.land is a more affordable option for a smaller city like Oxford.
They got the idea in early 2016. Being non-technical founders, they immediately went online to search for a ready solution that would allow them to create their Minimum Viable Platform as quickly as possible. First, they created a landing page with Squarespace. After they discovered Sharetribe's marketplace platform, they realized they would be able to build an entire marketplace platform in a matter of days, with no technical skills.
– With the help of Sharetribe, we were able to start validating our idea immediately. We reached out to friends and family and tried to convince them to sign up for the platform and list their bikes. That was the real test, after all: even if people say they liked the idea, would they actually use it and share their bikes?
The first users were surprised to discover how the marketplace was so fully featured and easy to use.
– When we started talking about our site, it was hard for people to believe that we had managed to build the platform in such a short time. It handled online payments and everything.
Milukaite and Ebsen had not previously built a marketplace. They say they were lucky to also discover the Marketplace Academy early on, and specifically the Practical guide for building an online marketplace business.
– Our strategy was influenced by the guide. It helped us save so much time. Because of it, we narrowed our focus to one category (bikes) and one small geographical area (the city of Oxford). We were also determined to reach liquidity in Oxford before going anywhere else. This initial focus made our early days so much easier.
Oxford was a great place to start with many potential early adopters for the platform.
– We focused on people who were most excited about the idea. Urban transport activists, sustainable development advocates, cycling enthusiasts, and so on. We figured out where these people hang out and directly went to them to talk about our idea. We also identified the cycling champion in the city council.
As of this writing, Cycle.land has achieved its goal of initial liquidity in Oxford. It lists more than 200 bikes in Oxford, which is enough for everyone who needs a bike to find one.
– In the beginning, getting new sharers and riders was a very involved process. Now the marketplace grows by itself—our involvement just helps to speed it up. To us, that's a sign we have reached liquidity.
Liquidity is arguably the most important marketplace metric to track. It means the percentage of listings on the marketplace that lead to transactions within a certain time period.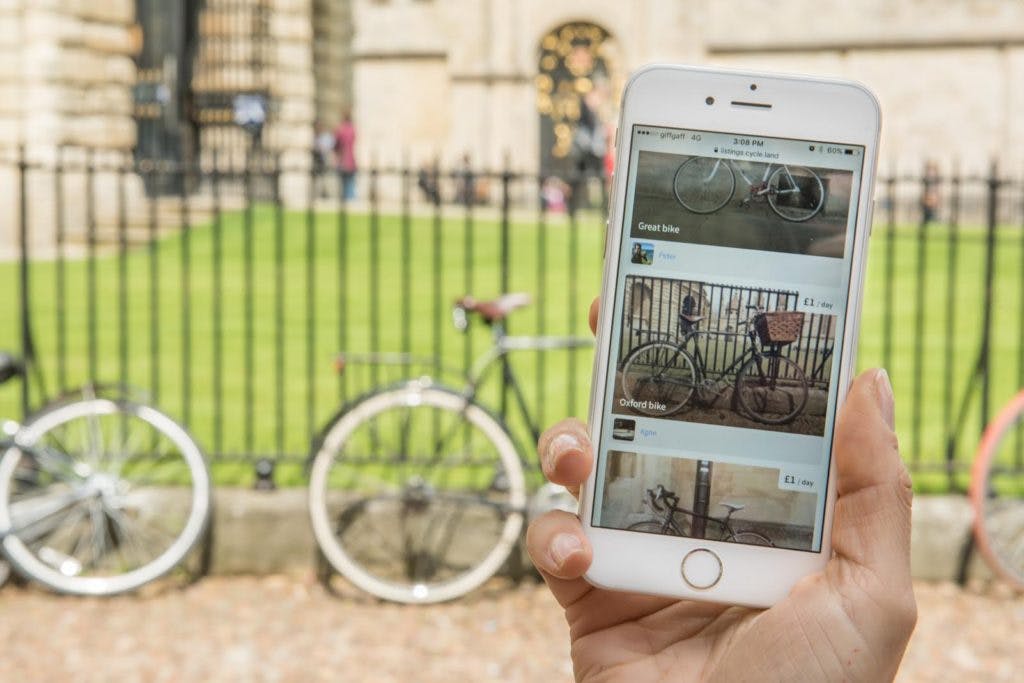 From the very beginning, Cycle.land has been featured in many mainstream publications, including the BBC, the Independent, Forbes, and The Atlantic's CityLab.
How does a young startup get featured in the press? Milukaite and Ebsen stress the importance of telling a good story.
– To get press, you need to think about what's interesting for the journalist. What's the story they want to tell their readers? The great thing about our concept was that it was easy to understand. Transforming biking is an attractive idea since biking is popular and growing fast.
With the traditional commission model, it can take several years to build a financially sustainable marketplace business. While that's the ultimate goal, the Cycle.land team found a complementary early business model to finance their operations.
– We offer bike-sharing in various forms, not just the peer-to-peer bike-sharing marketplace. We also offer "shared bike mobility as a service" to communities such as colleges, employers, and accommodation providers. Combining different forms of bike-sharing helps us get to revenue quickly. In the first 6 months, we have generated revenues of £30,000 and expect to generate revenues of £400,000 in the next 12 months.
Many startup companies grow by moving from one funding round to another. Milukaite and Ebsen want to do things differently.
– We want to grow fast and will keep raising funds to help us with that. However, we also want to be profitable in each new market we enter. We have used the £20,000 initial funding from Oxford University Innovation—who incubated us in March 2016—to generate £30,000 of revenue in Oxford. We have now raised more than £400,000 to expand to 5 more cities with the aim of generating £400,000 of revenue within the next 12 months. We will continue to raise money to reach new cities, and then we want to become profitable in those cities as soon as possible.
As of this writing, Cycle.land is about to close its first funding round: more than £400,000 in equity crowdfunding, well above their initial target of £100,000. They were inspired to opt for equity crowdfunding thanks to an interview with Michel Bauwens.
– Michel talks about how people building marketplaces should create commons. We believe that enabling users and supporters to become shareholders is a great way to create commons!
Cycle.land used a crowdfunding platform called Seedrs for their round.
– Our mentor, Roy Azoulay from Oxford University Innovation, introduced us to Seedrs, another company coming out of Oxford University. It's a great platform because it makes it easy for us to accept investments as low as £10. It was important to us that all our users and supporters could become shareholders, irrespective of the amount they want to invest. We are really happy that we now have more than 190 investors backing us! Without a platform like Seedrs, it would be very difficult for an early-stage company to manage that many investors.
One big benefit of marketplace crowdfunding is that it creates publicity. More people hear about Cycle.land because of the campaign—not just users, but potential investors and partners as well. But you have to be aware of the associated risks.
– With equity crowdfunding, you're not fundraising behind closed doors. If you miss your target, it is a very public failure. Ideally, you should be very confident about reaching your target before going public with your campaign.
Pulling off a successful equity crowdfunding campaign requires a lot of work.
– Seedrs—or other crowdfunding platforms—are tools that make it easier for startups to raise money from a large number of investors. But as a startup, you still have to put in the effort to excite the investors about your company's potential. This work starts well ahead of the launch of the campaign. When you launch, you will want to have pledges from a sufficient number of investors to be confident about the success of the campaign. You have to have a crowd behind you before you start raising funds. People have to love your idea and your product.
Equity crowdfunding also makes it easier for investors to make up their mind about an investment in a timely manner.
– A public campaign has a clear start and end date. This makes investor communication easier. With equity crowdfunding, it is clear to everyone that there is a window when a marketplace is fundraising.
With their crowdfunding money, Cycle.land wants to expand to five new cities, doing it one city at a time: Cambridge, London, Bristol, Brighton, and Edinburgh.
– We are using the funds to expand to one new city each month for the next 5 months. We will not just create liquidity in each of the markets within 6 months of launching there: we are also improving our "expansion playbook". Building on the lessons learned in Oxford, we are adding more detail with every new city. Our goal is to be a "learning machine" for the growth and expansion of bike-sharing. We will be raising our seed round later next year and will use the "expansion playbook" to expand to another 20-30 cities across the U.K. and Europe.
The ambitions of the team don't stop there.
– Our goal is to be the dominant global bike-sharing company within the next five to six years.
---

You might also like...