How to grow your marketplace on a budget
The road to 1,000 customers starts with 10 happy ones (that you didn't have to pay for).

Jaime Arredondo
Mar 14, 2017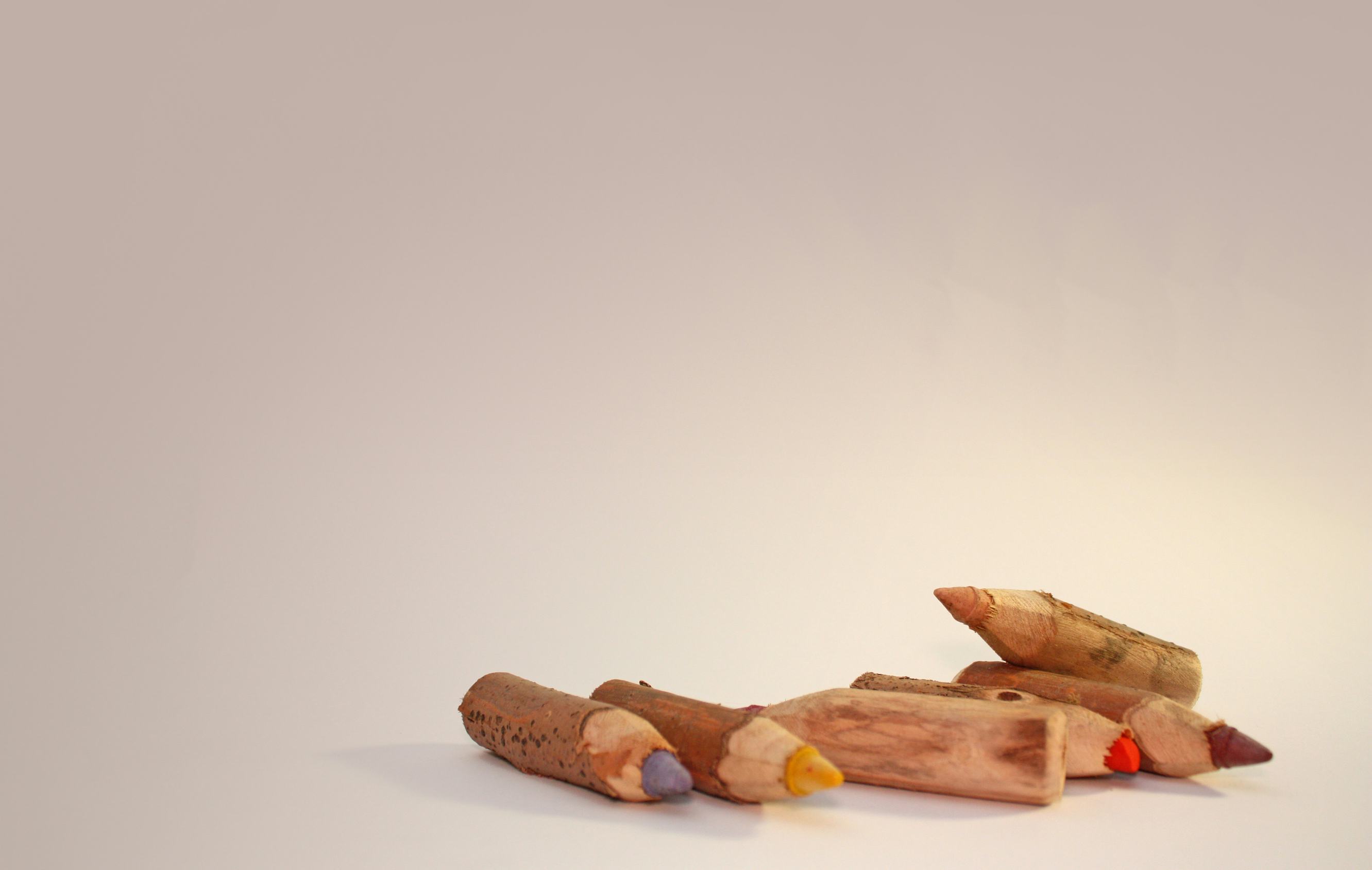 Creating a collaborative marketplace is complex. You need suppliers, customers for those suppliers, and grand plans to attract them to our platforms.
But grand plans to grow your marketplace can be hard and expensive to follow through. They can be overly complex, require too much time, people, or money. And, if you're just starting out, you might not have any of those.
What it's like building a two-sided marketplace. Inspired by @michaelsacca pic.twitter.com/Q0YwRX3LsS
— Mikael Cho (@mikaelcho) February 8, 2016
You feel you can make it big and your marketplace is meant to be a huge success. It's natural to think that getting to thousands of users is going to be a breeze.
You might be right. But before you have a thousand raving users, you first have to get 100 happy users. And before that, you need to get ten satisfied users.
Most early entrepreneurs start thinking about complex strategies like SEO, content marketing, viral marketing and community-building to reach their goals of having thousands of users. But this should be the roof of your strategy, not the foundation.
Some platforms are able to attract 100.000 users in 48 hours. But these are outliers who end up realizing that their user count is growing much faster than their capacity to offer a delightful experience, making the users flee in droves, never to return.
Unless you have already built an audience with a previous blog or project, you would benefit from first going out and finding a few meaningful people to engage with. These first few people will help you build the foundation of your strategy to gradually scale your platform while keeping an amazing service.
This post will show you a simple way to find the right first users for your platform, without any complex and expensive strategies, promotions or engineering.
Identify who your customers and providers are
First you'll need to make three lists. One of the people you think would offer their services, rentals or products on your platform, a second list of the people who you think would use your platform's services, and finally a list of the organizations who already have access to those users.
For example: if you are Airbnb and are going after conference attendees, it will be hard to reach them all. Instead, you should reach out to the conference organizers to offer their participants a cheaper and more authentic way of getting a room than a hotel.
If you are a ride-sharing app and you want to attract concert participants, reach out to the concert organizer to arrange more convenient transport for their tipsy attendees.
Let's do this exercise for some existing platforms: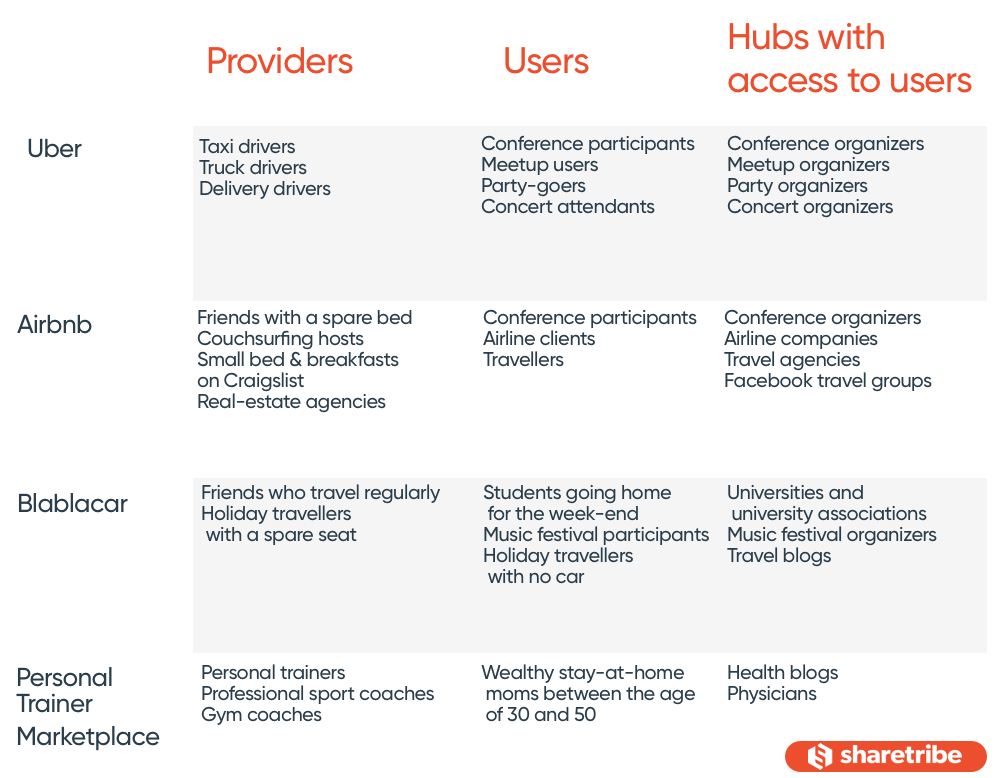 Now go and make your own lists of providers, users and user hubs for your own platform.
Identify the benefits your customers and providers want
Now that you know who you are going to help, you'll need another list that answers the following questions:
Think of benefits as the solutions to the problems—big or small—that they have. Brainstorm as many benefits as you can and write them down.
Here is a list of 9 common benefits that will appeal to most of your users:
Earning more money. Finding suppliers will be far easier if you can directly show that you can make someone more money (e.g. Uber, Airbnb, Blablacar…).
Save time. People love efficiency (e.g. finding a taxi in 2 minutes instead of 15 minutes) and many are willing to pay for it.
Look good. Everyone wants to look good. Is your platform helping suppliers present their offerings better than other platforms?
Lower risk. You can lower your customers' risks by offering money-back guarantees if they're not satisfied, creating a tailored insurance covering user misconducts and so on…
Zero management. People will love you if your platform does most of the management for them. For example, imagine Amazon taking care of the shipping and payments of the products you send their customers.
Understanding the business. Professionals like platforms that speak their language. If you can, show that you understand their business needs.
Convenience. How can they reach you? How quickly do you respond?
Clarity. Users aren't paying for your vision, they want a solution. The more you can show your user exactly what they'll get, the better.
Reliability. Can you pay on time? Do you ensure quick responses to stranded users? Even small things like prompt support make a lasting impression.
...and more: Credentials, fun, reputation, authenticity, etc. Come up with as many as you can on your own—you'll be glad you did.
Let's see how you would list the problems and your solutions if you were Airbnb: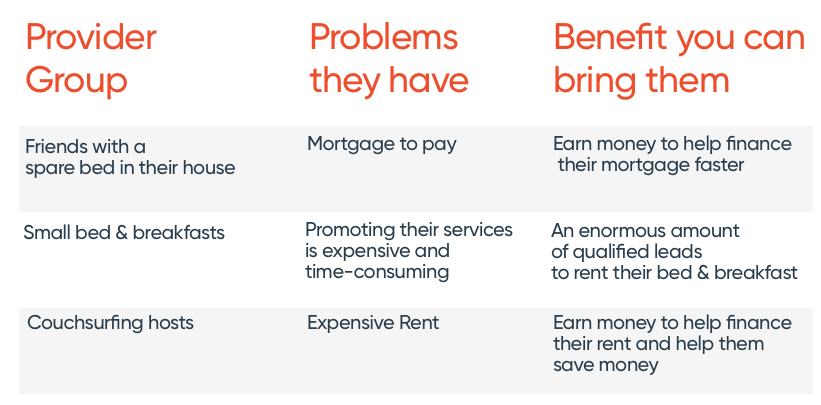 Now you can do the same for the users: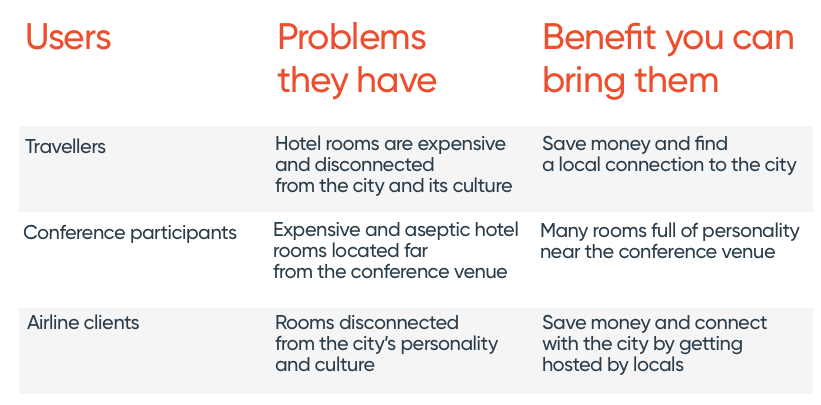 These lists of problems and benefits will help you prepare the messaging you'll need to onboard your first users.
We will now put all of this together to reach out to your first providers and users.
The ultimate email to reach out to your suppliers and invite them to use your platform
While many other effective marketing methods exist, this one will be more than enough to get your started.
It's simple: find and list the customers and the providers you want to work with, find their email addresses, and pitch them your platform service. You'll be able to get in front of potential customers and suppliers quickly and simply, and it's a great way to find out if they are interested. It's also simple enough to put into practice quickly, and powerful enough to attract qualified prospects to your platform—both from the provider and the customer sides.
What would this look like if you were Airbnb and you had to reach out to the bed and breakfasts in your neighbourhood? Let's see:
Subject line: Jane, I'd like to help you rent your rooms.
#1 [Introduction]: "Hi Jane, I read your room ad in [Craigslist / Newspaper] and I noticed that you've recently started using internet promotion for your room."
#2 [Offer]: "We've created a platform to post rooms like yours and I'd like to help you promote it to local conference participants and travel agencies with customers travelling to [CITY] to give you a bigger flow of customers."
#3 [Benefit]: "This would increase your rentals while decreasing your marketing budget, freeing up your time to let you take better care of your visitors."
#4 [Foot-in-the-Door]: "We can discuss the details, of course, but first I wanted to see if this is something you might be interested in."
#5 [Call-to-Action]: "If so, would it be okay if I sent you a few ideas about how I could help?"
This mail is divided into five sections. Let's go over each to help you adapt it to your own marketplace:
The subject line
Writing in complete sentences makes you jump out from the rest of her inbox. Be clear. Don't try to be clever or mysterious and say "Jane, you might like...".
#1. The Introduction explains how you know this person and why you are writing. You need to personalize this and know a bit about your leads beforehand. Be creative. Don't just say: "I randomly found you on the internet."
#2. The Offer is what you'll do for them. Spell out the 1 or 2 most relevant features of your platform. If possible, mention any successful results you've had, like how much your users make on average, or how much praise hosts get.
#3. The Benefit translates the Offer into what your prospect really gets. In the example, the lead cares less about a "rental platform" and more about getting more rentals, decreasing their marketing budget, and saving time.
#4. The Foot-in-the-Door gets you in—and takes the pressure off the reader.
#5. The Call-to-Action gets the reader to say "Yes." Always have one. Give them two options: Yes or No. Open-ended questions like "What do you think?" are tricky because they might not have any opinion about your offer at this point. "Can I send you a few ideas?" is better.
This email is so effective for many reasons:
Low competition. This method allows you to approach prospects who are rarely (or never) pitched at all. When you're the only one personally offering somebody what they want, you can win by default, which is always powerful.
Short-term results. It's important to get instant feedback, otherwise you're more likely to give up.
Measurable. No more ambiguous "I'll just go to some networking events and see what happens". With this method, if you pitch 100 prospects and no-one is remotely interested in your service, you immediately know something needs to change.
Anybody can do it. You don't need lots of experience, a ton of money, or a huge network to do this—just a little time and effort.
Rinse and repeat for your first users
Now you know how to attract suppliers to your two-sided marketplace. Time to go after customers for those suppliers.
Again, assuming you are Airbnb, let's see how you would reach out to a conference organizer:
Subject line: Joe, I'd like to help you find rooms for your participants.
#1 [Introduction]: "Hi Joe, I read about [CONFERENCE NAME] and noticed that your attendees were having trouble getting affordable rooms nearby."
#2 [Offer]: "We've created a platform to rent rooms hosted by locals and I'd like to offer to help host the participants who haven't been able to find a cozy or affordable place."
#3 [Benefit]: "This would surely help convince these potential participants to attend the conference."
#4 [Foot-in-the-Door]: "We can discuss the details, of course, but first I wanted to see if this is something you might be interested in."
#5 [Call-to-Action]: "If so, would it be okay if I sent you a few ideas about how I could help?"
You can adapt this and use it as a starting point for your own message.
To supercharge your offer, you could even provide them with a discount code that gives them 25% to 75% of the commissions you make from the people who book with their exclusive discount code. This is pure additional profit for them with little extra effort, and you get new customers—a clear win-win for both.
What if they are not interested?
Once you have gotten them on the phone and have been able to present your offer in detail, you might still get rejected.
No panic!
This is perfectly normal. When this happens, you still have a powerful way to either turn their no into a yes, or to find ways to improve your offer. After they've refused to use your platform, tell them the following:
"Ok, I'm a terrible negotiator. Let me know what you want, and if it's reasonable, we'll do it your way."
By letting them suggest what's missing, you'll surface the objections and problems you haven't realized or tackled yet, and will be able to address them immediately after or improve your offer for your following attempts.
Get your users to spread the love
By this point, you've done a lot of hard work and should be getting your first results! To get the wheel spinning, it's time to follow up with your satisfied users and providers.
Go and ask them what you can improve, and if they could refer you to other people in their network who would benefit from your platform.
If they're happy with your service, they'll direct more people to your service, and if they're not, they'll let you know how you can improve it.
Here is an email template you should personalize to your own voice and audience. Don't just copy it—if every marketplace starts using it, it will lose its power.
Hello [CUSTOMERS NAME],
Just wanted to thank you again for [ACTION THEY TOOK, e.g.: booking your room with us]. We're grateful that you chose to travel with us, and I'm so glad you were able to [mention the desired outcome you created].
Now that you've tried out the service, I wanted to see if you'd be willing to offer me some feedback.
What's the one thing I should do differently to make booking through [MARKETPLACE NAME] a piece of cake for people like you?
We're always doing our best to improve, so we'd be really grateful if you could take a few minutes to let us know.
Thanks for your support,
[YOUR NAME]
PS: We'd love to help more people like you – and perhaps your friends could benefit from a platform like ours. Would you mind introducing us to one of your friends who would benefit from our rooms?
[Optional: If you forward them this email, they can use the discount code XXXXX and you will both get a 5% discount on your next booking]
This email will get your customers to send new customers to your platform and will let you know how improve your service.
Once you've reached this point, you can start from the beginning and find new hubs of users to keep growing.
In summary
Here are the steps we've seen so far:
Make a list of prospective providers and consumers for your platform.
Identify their problems and the solutions you can provide.
Reach out to the suppliers and invite them to your platform.
Once you have enough supply, reach out to organizations that cater to your consumers.
Once you have satisfied users, ask them for referrals.
Rinse and repeat.
At first, this will take a little more time than going after more scalable strategies like SEO, social media or engineering as marketing. But these three email templates will teach you how to find your initial niches, polish your offer, attract and make your ten first users happy. Once you've found the first ten, you'll be able to get your next 100 through partnerships, and then your next 1000 users.
It might not be as trendy as growth hacking, but this is a strategy that anyone can do but nobody does—one that will give you cheap, quick and measurable results.
When you are ready to grow your marketplace even more, go ahead and use more sophisticated techniques. You'll then be equipped to keep the new users you attract instead of just growing and seeing them leave because your platform's offer is not polished enough.
Go ahead—go get those first ten users!