Balanced
Why we started a DEI initiative – and how it's going
In 2020-2021, Sharetribe set down permanent structures to guarantee that furthering diversity, equity, and inclusion will be an ongoing, continuous process at the company.
Dec 20, 2021

Protests against police brutality and racial inequality spread worldwide in the wake of the murder of George Floyd on May 25th, 2020. The protests sparked and amplified discussions on racism and systemic inequality on a wider scale than had been seen before. Companies at large realized they needed to do more to show up in the fight against racism. So did Sharetribe.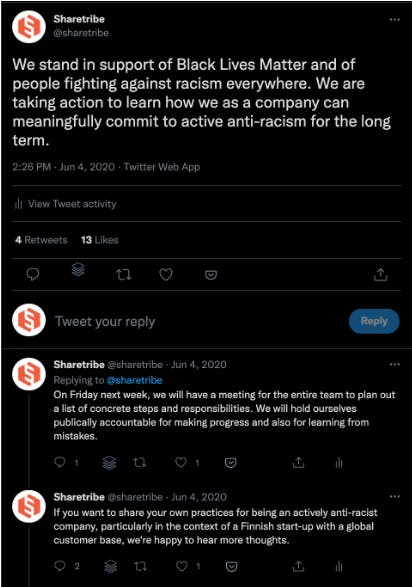 That this was the first time we spoke up against racism as a company was eye-opening.
In general, we've always been proud of doing things differently. We have a social mission and a company structure that enforces it. We're committed to a set of values that are reflected in our everyday culture and initiatives like anonymous hiring, transparent salaries, and inclusive decision-making. We want to make an impact on the things that matter on a global level. We count eleven different nationalities among our 24 employees. But up until the spring of 2020, we weren't working on diversity, equity, and inclusion (DEI) as actively as we could be.
Hailing from Finland, a country shown to be significantly racist, we want to contribute to active anti-racism on a large scale. We also want to make continuous progress in building a diverse team and an inclusive culture of work where the playing field is level.
We decided to set down permanent structures to guarantee that DEI work will be prioritized as an ongoing process. This post is a review of the work we have done on this front during the first one and a half years of our DEI initiative and what we're planning to do next.
As a definition of diversity, we use the following by Martina Marti in the Avaus Diversity Information Pack:
Diversity means that every person has innumerable qualities and roles and that many of us belong to different groups. It can also be a so-called internal diversity, influenced by each individual's own background and identity questions. The diversity of society includes all minority groups. Characteristics, backgrounds and groups may relate, for example, to gender, sexuality, socio-economic status, age, physical characteristics, disability, appearance, religion, language, cultural differences, ethnic backgrounds, political views, or different ideologies and beliefs. Taking diversity into account is about respecting the differences in the identity of a person in a safe and positive atmosphere. Everyone should feel welcome and respected as they are. It is important that everyone can participate without fear of discrimination.
Forming a council for diversity, equity, and inclusion
In the spring of 2020, we formed a permanent group whose purpose is to tackle visible as well as non-visible issues regarding matters of diversity, equity, and inclusion at Sharetribe. The name we settled on for the group is DEI Council. 
The Council was composed of Sharetribe employees based on interest; everyone interested was allowed to join. We were happy that this led to a relatively diverse group of council members, with the original six consisting of both senior and junior individuals at Sharetribe, Finnish and non-Finnish, as well as different genders.
The DEI Council meets once per month and is chaired by our CEO, Juho. Everyone is welcome to join the meetings (called DEI Open), but the Council is expected to prioritize attendance and take responsibility for moving initiatives forward. It's also possible to introduce topics to the DEI Council anonymously.
The Council's role is to actively bring up opportunities to improve diversity, equity, and inclusion. We've been glad to notice that other teams and company decision-makers have introduced topics and asked for advice from the DEI Council. During the past year, the Council has discussed topics such as hiring processes, onboarding, decision-making practices, and decisions on extra paid leave for new parents from a DEI perspective.
Anonymous recruiting
In 2019, a study found striking evidence that landing a job in Finland is greatly impacted by the applicant's name in terms of both gender and ethnicity. Getting an invite to an interview was by far the easiest for applicants who had traditionally female, Finnish names. Hiring bias narrows down job opportunities for diverse candidates and prevents companies from building diverse teams. These biases are often unconscious.
Like many others, we want to believe we are unbiased in our recruitment processes but recognize the inherent danger in such an assumption. To reduce bias in hiring, we've been experimenting with an anonymous recruitment process. Before the formation of the DEI Council, we'd used this approach in one previous hiring round. 
In the experimental recruitment process, the decision on who to invite for the first in-person interviews is made solely based on candidates' answers to job-related questions. The applicant's name, photo, and CV are not shown to the recruiters choosing the candidates. With this approach, we've received a diverse pool of candidates for the first round of interviews as well as positive feedback – also from some candidates who were not invited for an interview.
Diversity training
In the autumn of 2020, we hired a diversity and inclusion expert agency Nordic Diversity Trainers to evaluate our recruitment process and give us guidance on how to improve it, as well as other diversity-related aspects in our company. Their diversity training strengthened our understanding that we are on the right track and that our current recruitment methods are reducing bias in hiring, at least for the first round of interviews. 
Employee survey on diversity and inclusion
We completed an anonymous company-wide survey on our employees' thoughts on fairness, decision-making, division of tasks, voice, belonging, and diversity at Sharetribe. 
Planning the survey presented us with an interesting challenge: we wanted it to be anonymous to give everyone a chance to voice their concerns without the fear of being identified. However, due to our small company size (21 employees at the time), this meant we couldn't really collect data on the respondents' age, gender, ethnicity, seniority, or other identifiers that could have de-anonymized the responses. This, in turn, prevents us from identifying potential issues that systematically affect any specific subgroup of employees. This is something we expect to change as the company grows and as different groups get more representation within the company.
The results of the survey were generally very positive. For example, a strong majority of the respondents were proud to work at Sharetribe and would recommend it as a place to work. However, questions and concerns about decision-making, salary fairness, and belonging were raised. This prompted us to clarify and document processes related to these in more detail. 
To clarify decision-making and improve opportunities for everyone to participate in it, our CEO Juho and COO Antti wrote about our current decision-making process and how we got there. At the suggestion of the DEI Council, we also highlighted that everyone can join strategic meetings either as an active participant or just to listen.
To reduce the lack of clarity in salaries, Juho and Antti wrote down our compensation principles. Sharetribe's salaries are transparent, and we wanted to make sure that they are also thoroughly explained. Before, we already had a process in place where every significant raise someone gets is publicly announced and explained, but the feedback inspired this more thorough documentation on salary formation.
Internal DEI Library
To encourage Sharetribe team members to learn and share resources on diversity, equity, and inclusion, we compiled a library with resources on antiracism, allyship, intersectionality, and more. In addition to providing a basis for learning, the library is a space where everyone can share content on these topics from books to podcasts and blog posts to webinars they've found valuable, whether related to professional life or the broader discourse.
What's next
DEI work is a continuous process and does not end here. It's important to lay the groundwork for a diverse, inclusive, and equitable workplace now that Sharetribe is still young and relatively small. Our last hiring round added five amazing new members to our team, two of whom have also joined the DEI Council. 
This year, we again conducted a survey on company culture to track our progress. We hope to identify any potential obstacles and will continue to survey the team yearly from now on. We will continue discussions on matters related to personnel and product from a DEI perspective, provide advice for decision-making, and bring up new DEI initiatives. We've created safer space guidelines to help us build a workplace where everyone is free to be themselves.
We believe that the structures we lay in place now will positively impact Sharetribe in the future and help us create a diverse workplace where everyone belongs. At the end of each year, we publish a review of the DEI initiatives we've taken up and completed during that year. Read our 2022 update on diversity, equity, and inclusion at Sharetribe.
We still have many strides to take to become a more diverse company. If you have recommendations on how we can do things better, or if you work with diverse talent acquisition in the Nordics, please get in touch with us at hello@sharetribe.com!
Liked this? Get email updates on new Balanced posts.
Subscribe