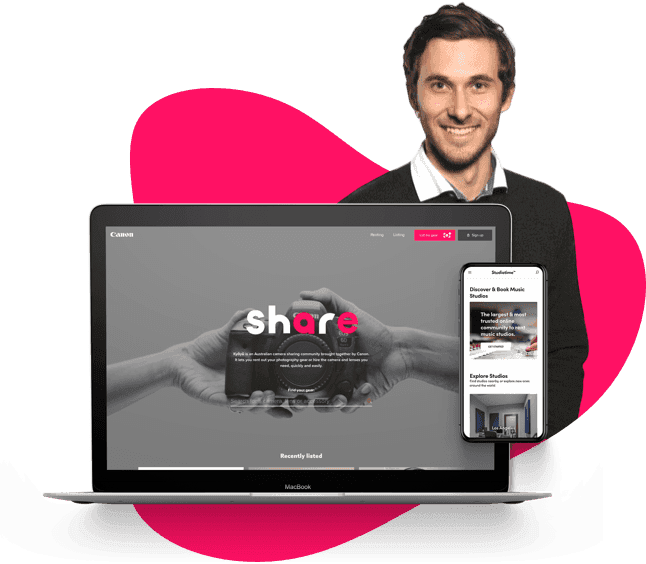 Sharetribe for enterprise
Bring your brand to the platform age. A sharing economy pioneer, Sharetribe offers marketplace SaaS solutions that empower your organization to succeed in the competitive world of online marketplaces.
"Our main goal was to get into the market as quickly as possible to start learning. The speed to market was the most important benefit of using Sharetribe Flex.Sharetribe's expertise helped us understand what it takes to build, start, and run a marketplace."
–Anthony from Australia
Book a call
---

Build a powerful enterprise marketplace. Fast.
Focus on your brand, your audience, your business. Let Sharetribe do the heavy lifting.
Lean experimentation & validation
Sharetribe cuts your time-to-market by as much as 90%.
Key marketplace features out of the box
Build your special sauce on top of robust online marketplace essentials.
Easy to integrate
Sharetribe works seamlessly with your internal systems and third-party software.
World-class scalability & reliability
Our APIs handle millions of requests successfully every single day.
Decades of experience
We've been working with marketplaces since 2009. We even wrote a book about it.
Leading global marketplace solution
Sharetribe is trusted by more than 1,000 marketplace founders from startups to Fortune 500 companies.
---

Book a free consultation call
Talk us through your enterprise and requirements. We'll let you know what Sharetribe can do.

Book a call




---

The right marketplace software at the right time
Building a website like Airbnb, Fiverr, or eBay? Choose the right approach for your idea, technical skills, and budget. Launch fast with a no-code solution or develop your unique marketplace on top of powerful APIs.
Starts from $79/mo
Sharetribe Go:
The fastest way to market
Set up & launch in one day
No coding skills needed
Easy to adapt to your marketplace idea
Starts from $299/mo
Sharetribe Flex:
Custom-building made smarter
Design & develop your ideal marketplace
Essential features out of the box
Unique, headless approach with APIs and templates